/
EN
KERSTIN RAJNAR
VAGINAMUSEUM.at _ Founder / Director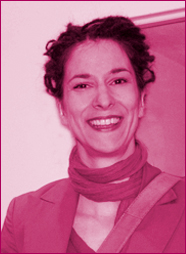 Being the living trademark "frau mag rosa pink" (woman likes rose pink), the artist Kerstin
Rajnar
works in the middle of splendid pink worlds and clearly structured contextual pieces of art.
Her focus lies on psychosocial and critical topics which are processed aesthetically and in a content-related way so that recipients may experience themselves in a personal context. In the center of her pieces stands the "I", its role, identity and function as a woman in a social
(patriarchal)
system. One of her main artistic concerns, which has emerged over the years, is the creation of spaces/places/spots in order to link art with society.
frau mag rosa pink cannot be recognized by a repetitive style, but rather by her explorative conceptional approach, which, combined with her know-how, allows for an individual freedom in her art. Another important factor is a holistic concept underlying the piece of art and
preparing
its ground.
http://rosa.mur.at/
http://rosapinks.com